Bone Lab Dresden

Maintaining lifelong bone health remains a challenge. Therefore, our team works on several research projects linking bone research with diabetes, hematology, immunology, endocrinology, oncology, and materials science. Through our research, we expect to translate bone discoveries into more effective therapies for patients.
Research Fields

Check out our current and future research fields
Research Blog & News

Congratulations to Franziska Lademann, PhD – 2022 Recipient of the Friedrich Heuck Osteologie Award
Sylvia Thiele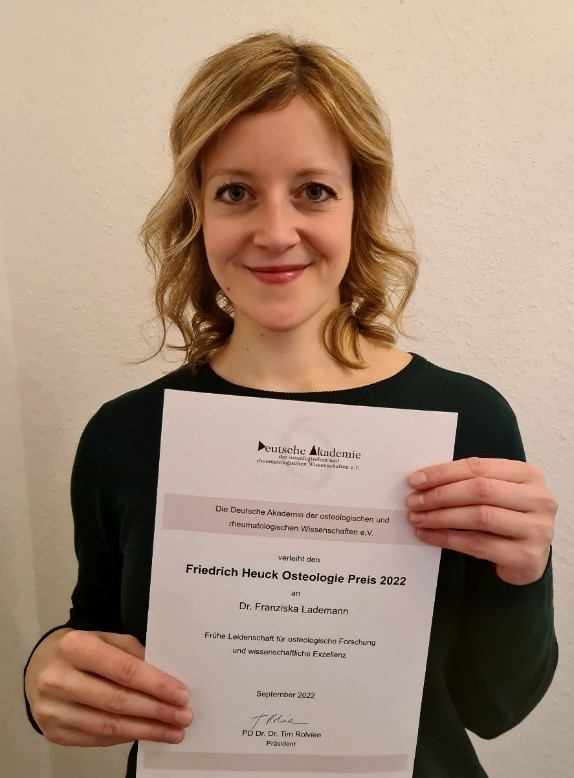 Congratulations to Franziska Lademann, PhD – 2022 Recipient of the Friedrich Heuck Osteologie Award
Rewarding three of her original publications about the effects of thyroid hormones on bone, Franziska received this year's Friedrich Heuck Osteologie Award sponsored by the Deutsche Akademie der osteologischen & rheumatologischen Wissenschaften e.V. (DAdorW).

Thyroid hormones are essential regulators of skeletal growth and bone metabolism. In her first paper "Lack of the thyroid hormone transporter Mct8 in osteoblast and osteoclast progenitors increases trabecular bone in male mice" Franziska investigated the role of the thyroid hormone transporter MCT8 in bone cells using different transgenic mouse models and showed that MCT8 directly affects bone remodeling and bone mass.
With the study "The thyroid hormone transporter MCT10 is a novel regulator of trabecular bone mass and bone turnover in male mice", published 2022 in Endocrinology, another important thyroid hormone transporter in bone, MCT10, was identified and described to have distinct effects on bone structure and fragility in a site- and age-dependent manner.
Franziska's third original publication, published 2021 in JBMR ,"Disruption of BMP signaling prevents hyperthyroidism-induced bone loss in male mice", showed that the bone morphogentic protein (BMP) signaling pathway, one of the most important osteogenic signaling pathways, is activated by thyroid hormones in osteoblasts and its pharmacological blockade prevented the development of osteoporosis in hyperthyroid mice.
Franziska is now expanding her research and will focus on the interaction of thyroid hormone receptors and the BMP signaling pathway in bone.
We are proud of having such motivated and aspiring scientists in our Bone Lab. Keep up the good work, Franzi!
April 23 is International FOP Awareness Day 2022!!
Sylvia Thiele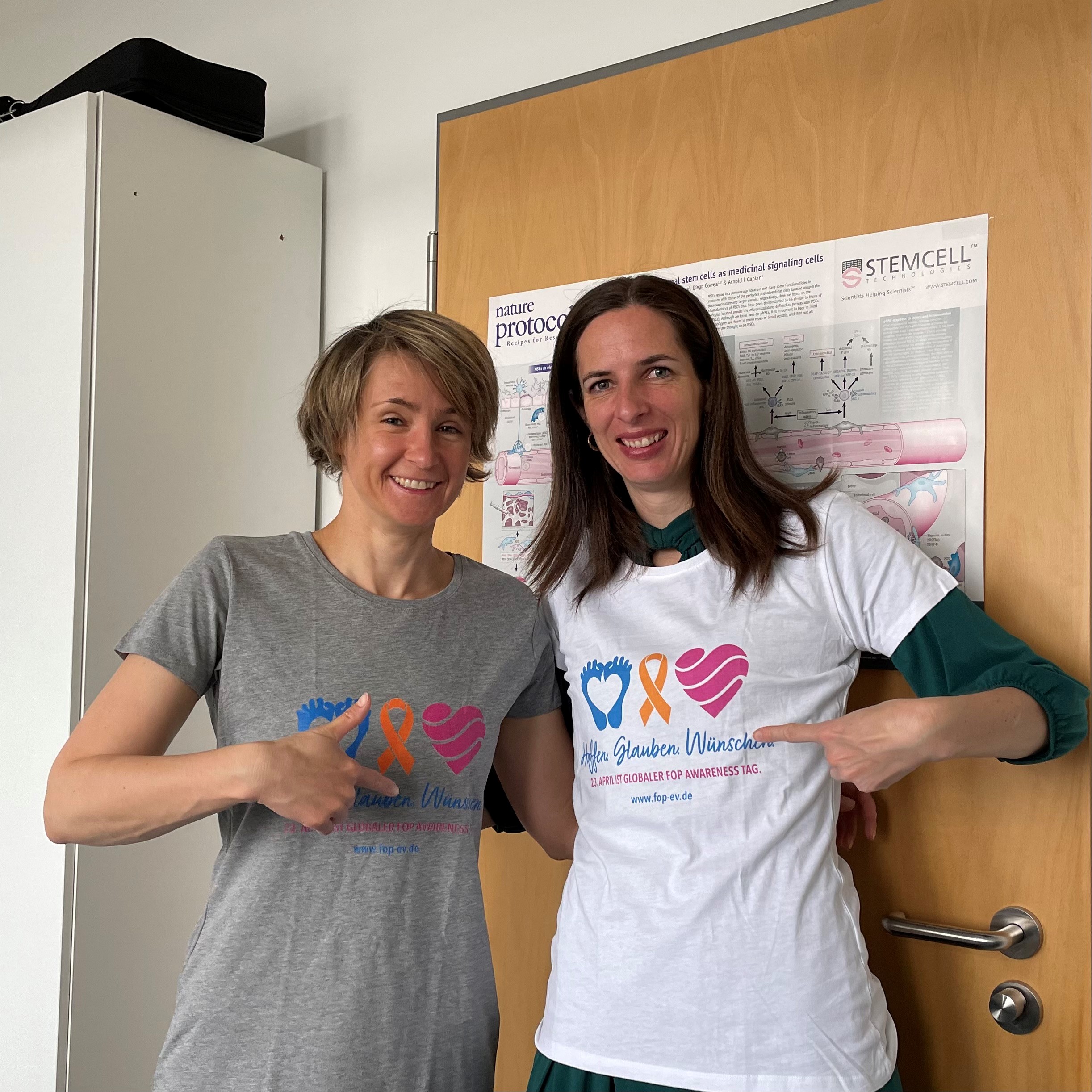 April 23 is International FOP Awareness Day 2022!!

Fibrodysplasia Ossificans Progressiva (FOP) is an ultra-rare severely disabling genetic disease affecting 1 in 1.5 million people. It is characterized by excessive heterotopic ossification that progressively limits movement. Patients suffer from malformed big toes and bone formation in muscles, tendons, ligaments and other connective tissues. FOP results from mutations in the ACVR1 gene, which encodes for the BMP type I receptor ALK2. These mutations lead to hyper-responsiveness of this receptor to various ligands of the TGFb/BMP superfamily.
Since the University of Pennsylvania announced their breakthrough discovery of the FOP gene ACVR1 at April 23, 2006, this date is now celebrated as International FOP Awareness Day! This year marks the 16th anniversary of the discovery of the FOP gene meaning 16 years of hope, progress and determination to find a cure.
Martina Rauner and Ulrike Baschant, two scientists from the Bone Lab Dresden, are trying to find new therapeutic approaches to abrogate heterotopic ossification. To support the FOP community, they are also wearing T-shirts to raise awareness for the 2022 Global FOP Awareness Day.
For more information and if you wish to support the FOP community, too, please visit: https://www.ifopa.org/2022_global_awareness_day
Hope. Believe. Wish. for a future without FOP.
Congratulations to Manuel Gado for defending his Ph.D. thesis with magna cum laude!
Sylvia Thiele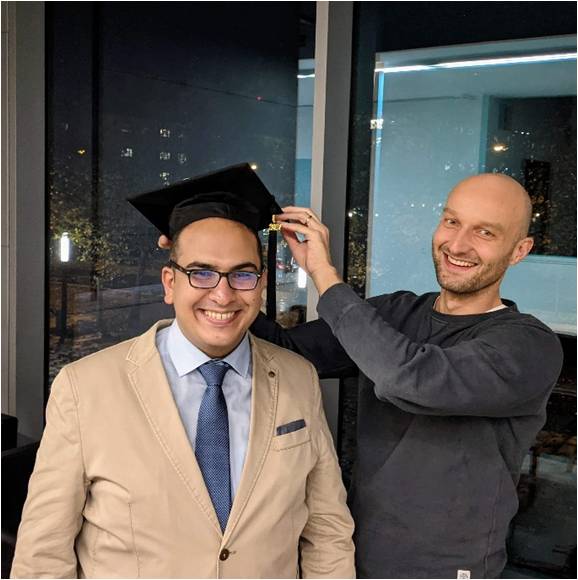 Congratulations to Manuel Gado for defending his Ph.D. thesis with magna cum laude!
For his doctoral studies in the field of endocrinology, Manuel investigated the interaction between glucocorticoid signaling and the sympathetic nervous system in both the skeleton and the adipose tissue.

To that end, he used two methods to activate the adaptive thermogenic capacity in mice: long-term cold acclimatization and a chronic administration of a β3-AR agonist. He demonstrated that activation of the beta-adrenergic system either with long-term cold acclimation or pharmacological β3-AR activation prevented the onset of glucocorticoid-induced adipose dysfunction and related metabolic comorbidities. Thus, targeting β3-AR may be regarded as a potential therapeutic strategy to prevent glucocorticoid-induced metabolic disease.
Manuel will continue working as a postdoc in Holger Henneicke's lab focusing on the interaction between glucocorticoids and IL4 in skeletal biology at the CRTD in Dresden.
Keep up the good work, Manuel!
Contact

Bone Lab Dresden
Medizinische Klinik und Poliklinik III
Universitätsklinikum Carl Gustav Carus Dresden
Phone: +49 (0)351 458-3173
eMail: info@bone-lab.de
Fetscherstraße 74 · 01307 Dresden · Germany
For privacy reasons Google Maps needs your permission to be loaded. For more details, please see our
Privacy Policy
.
I Accept